EasyIT Partners with The Byron Saunders Foundation to Combat Hunger in Local Communities
In the United States, we have celebrated Thanksgiving nearly every year after a proclamation by President George Washington in 1789. Traditionally, the season of Thanksgiving is known as a time of reflection, gratitude, and sharing—a celebration of the bountiful harvest culminating with family and friends, gathered around the table to break bread. Many people in the United States do not have the means or ability to celebrate Thanksgiving. The number of malnourished people globally has increased over the past three years.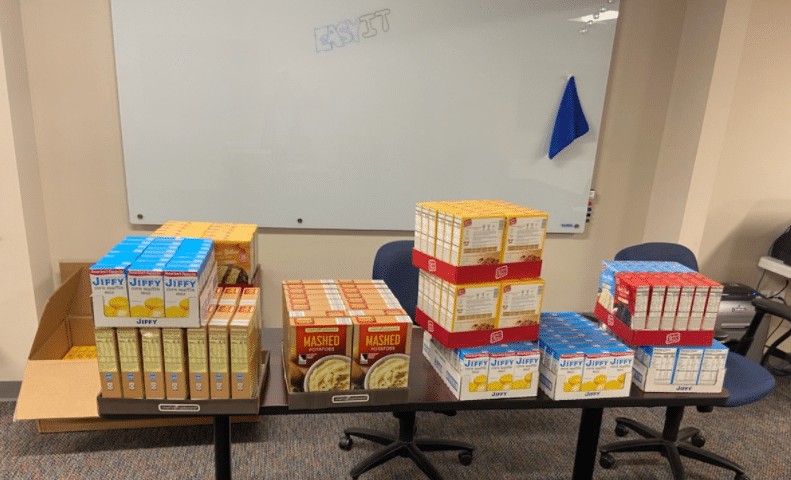 At EasyIT, we recognize the importance of giving back to the community by participating in various community-sponsored events and volunteering to help organizations as a group. Not only does it foster a sense of unity among our employees, but it also serves to enrich the lives of those around us. This year, in a year when so many are suffering, and millions of Americans have lost their jobs, we decided to hold a food drive to benefit The Byron Saunders Foundation, a non-profit organization serving Central Ohio. The foundation provides Thanksgiving meals to families in need during the holiday months when families' need for assistance increases. Last year, the foundation supplied a Thanksgiving meal to 5,020 families in the following counties:
Franklin County
Knox County
Delaware County
Fairfield County
Licking County
Madison County
Morgan County
Muskingham County
Employees brought in pre-packaged Thanksgiving items like stuffing, canned sweet potatoes, canned corn, boxed potatoes, evaporated milk, and more to donate to the cause. If you are interested in helping The Byron Saunders Foundation by donating time or money, it is important to note that they use 100% of the money donated from individuals and all donations are tax-deductible. The employees of EasyIT were thrilled to be a part of something greater. We hope that The Byron Saunders Foundation exceeds the number of people they help this year during the holidays.
EasyIT provides IT support and services, such as managed IT services, managed security solutions, and network management through our Network and Security Operations Center (NSOC). We offer expert, reliable, and customized services. You can reach us 24/7/365. Please speak with us today at 614-339-4999 or email us at sales@easyit.com to discover how we can help you put our IT solutions to work for your company to help you achieve your objectives.