Have you realized that your current IT services provider is in over their head? Whatever it is they are doing wrong, you need to find a capable IT company.
Regardless of the size of your organization, your IT assets represent a significant portion of your investment. In today's business environment, you depend heavily on IT for almost every aspect of your operation. However, to reap the full rewards of your IT infrastructure, it needs to be well supported. It doesn't matter how well-designed or innovative your technology is, you won't get value for your money if you're working with an incompetent IT company.
Over the years we've been in business, we've met many company representatives that have grown tired of their IT services providers. Whatever their reasons are, most of them agree that it's time to switch to a reliable managed IT services provider (MSP).
Some of the most common complaints we hear are as follows:
They suffer from chronic IT issues.
Routine jobs take days to complete.
Their critical data and applications aren't secure.
They continuously have to pay avoidable extra charges.
They were sold unnecessary additional services.
They aren't familiar with their IT support team due to a high turnover rate.
They experience data loss and business interruptions because of weak backups.
Although they are ready to part ways with their current MSP, most business representatives say that the vast range of choices nowadays presents a challenge. Separating the professional IT services providers from those that google their solutions can seem like a tall order.
As a leading managed IT services provider in Columbus, EasyIT strives to educate business IT decision-makers on selecting a dependable MSP. It is with that goal in mind that our team wrote this article.
We've crafted a list of critical questions that you can use to select an MSP that will take care of your company's unique IT needs.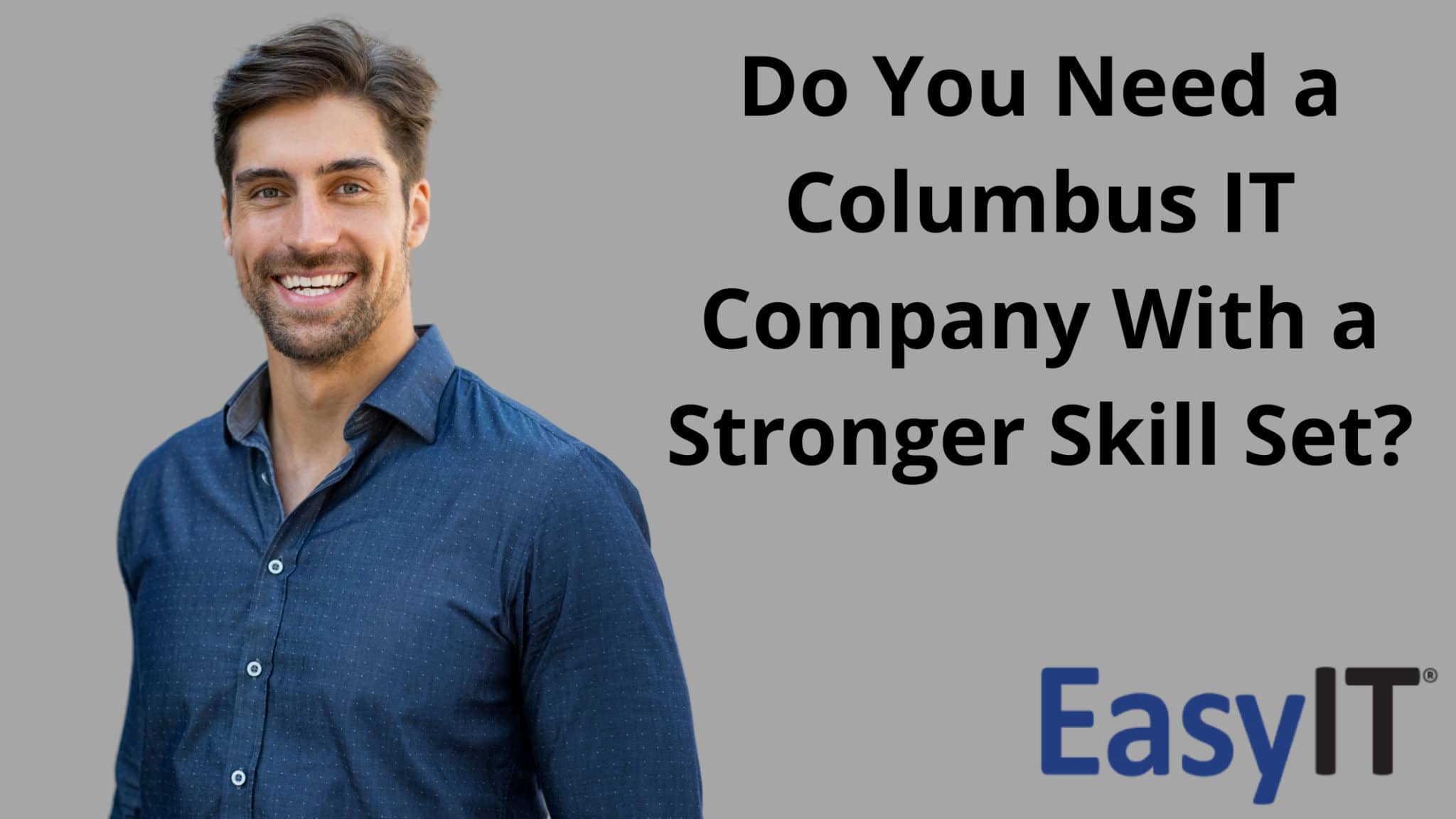 How Do You Find the Skilled IT Support You Need?
Although it can seem like a painstaking task, choosing a capable IT company is as simple as asking the right questions, only you can come up with questions that accurately address your organization's specific needs. That said, we have made this list of ten essential questions to help you along the way.
Are They Familiar With Your Industry? It would be best to work with an MSP who has experience working with businesses in your industry. It's an easy way to ensure they are aware of your current and future IT needs.
Do They Answer Their Phones or Outsource? It's crucial to know how long you should expect to wait for IT solutions or only work during regular business hours.
Do They Have a Data Backup and Recovery Plan? Once in a while, you are bound to experience technology failures and security intrusions. Your MSP should have a secure data backup and recovery plan to safeguard sensitive data and critical applications. A proper plan must involve several backups in different locations (in a cloud environment and on-site) to optimize data redundancy and prevent business disruptions. This is perhaps one of the most essential IT services and includes:
Intrusion detection and prevention
File encryption
Firewall settings
Do They Test and Verify the Backups? They need to do this a minimum of twice a week. Failure to meet this minimum requirement leaves your network needlessly open to various threats. Merely having a good data backup plan is half the battle.
Do They Offer 24/7/365 Support? Cybercriminals don't clock out after business hours, and neither should your IT services provider. The same also goes for unpredictable hardware glitches. It would be best to have an MSP that can offer timely IT support whenever the need arises. Your network requires round-the-clock monitoring, management, and maintenance to run optimally.
Will They Provide a Map of Your Network? A good MSP should present you with comprehensive, written documentation of your IT. It's convenient to bring together all the information you need to find your way around your network.
What Are Their Service Standards and Processes? It would help if you inquired about their technicians' certifications and qualifications. A trustworthy MSP should provide such information openly and honestly. What's more, they should explain how those qualifications will meet your demands. They should also make it necessary for their staff to undergo regular training to keep up with the tech world's rapid changes. Equally important is finding out their experience in providing the kind of IT Support, services, and solutions you need.
Do They Practice Vendor Management? Clearly define how responsibilities are distributed concerning integrated systems and applications. For instance, if your VoIP telecom is down, your IT services provider should take over to coordinate services. They shouldn't dodge the responsibility or direct you to contact your telecom provider. Rather than shift the blame elsewhere and task you with finding your way, the right MSP will take the initiative to develop a solution.
Do They Offer Strategic Planning? Considering factors such as your organization's budget and objectives, a capable MSP will provide a well-thought-out IT roadmap. This should be followed by frequent meetings to evaluate the plan and update it if necessary.
How Do They Manage Progress on Projects? When working on a project, the right MSP will deliver consistent status reports, updates, and follow-up emails or phone calls to make sure you're always in the loop.
Our team at EasyIT is ready to honestly answer all of these questions with any other additional ones you might have. We are eager to offer your Columbus business comprehensive IT support to help you achieve your goals.
Ready to Outsource Reliable IT Support for Your Business?
Contact us now and help you scale your business to new heights with the right customized IT solutions.