EasyIT: One Of Only A Few Columbus-Based Organizations To Be Recognized On Annual Small Business Growth List
The EasyIT team is proud to be recognized for our rapid growth on this year's Inc. 5000 List. Are you looking for expert assistance growing and modernizing your business?
EasyIT is proud to announce that we have been named to the 2022 Inc. 5000 list. Every year, this list recognizes the fastest-growing businesses across the country for the substantial growth and performance they've achieved.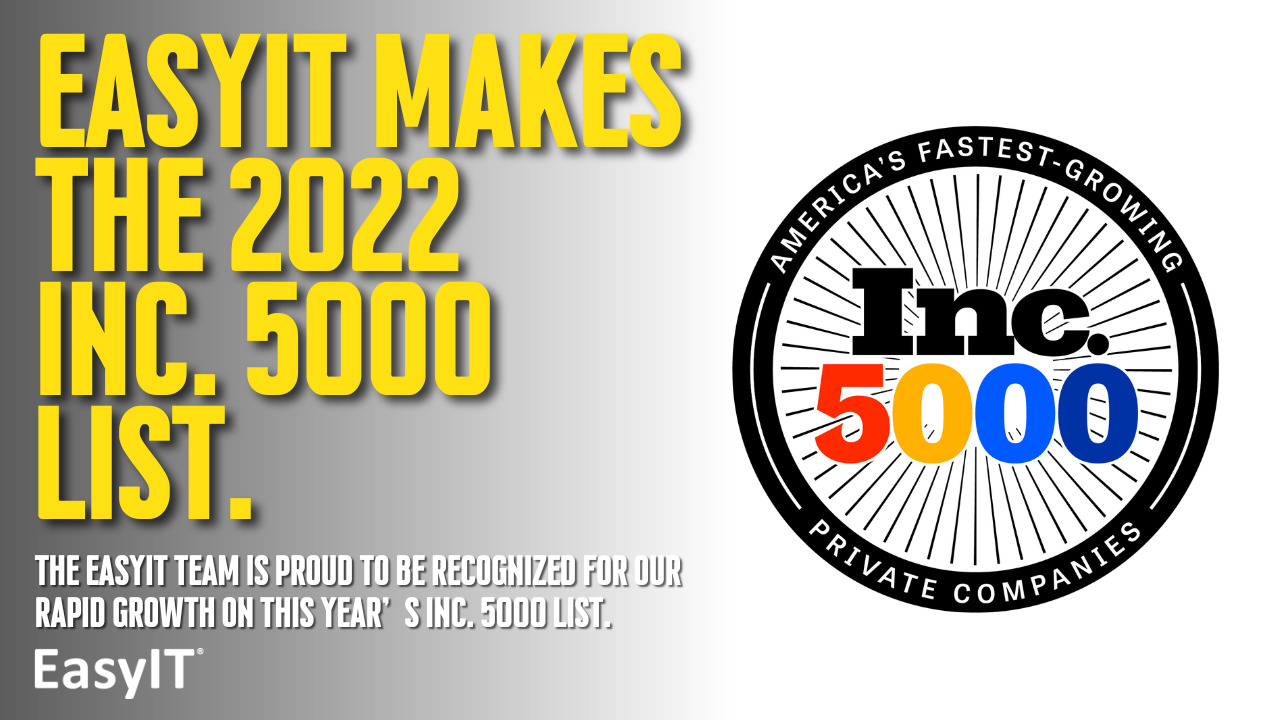 How Does Being an Inc. 5000 Member Benefit Columbus Organizations?
Why should you care that we were named on this list? Because our ability to grow our business directly results from how we help clients grow theirs. Our team recognizes that IT if planned strategically and according to the client's business goals, can help grow and improve the business.
The bottom line is that technology is a resource in which you invest. It's critical that you align technology to your organizational goals so that you're not wasting money or technology you've already bought. That's what we do for our clients.
How Do We Support Our Clients' Business Growth Initiatives?
A key example is how we support our client's digital transformation processes. At its simplest, digital transformation is the initiative to use new technologies for better business outcomes. That's why 54% of businesses worldwide are investing in digital transformation strategies in one way or another.
The EasyIT team is proud to help clients harness new technologies, scale up their processes, and transform their businesses. When a digital transformation initiative is a success, it grows the client's business, allowing them to achieve new heights in efficiency and success.
The digital transformation processes we manage for clients catapult their enterprises to new heights in efficiency and success. It ensures that everyone in the organization has bought into the solution, which greatly improves the chance for it to succeed.
Most organizations that want to implement solutions to enhance their business need to start with a review of the different areas of their organization — this determines their digital transformation readiness. When we manage the process, it begins with questions for the stakeholders about what is working well in the organization and what needs improvement. This will then lead the stakeholders down the right path to where and how the most impact can be made on the enterprise through implementing a solution.
Likely areas for review include Finance, Operations, Marketing, Sales, HR, Client Experience, and Management. When the areas of the organization that have the most room for improvement are identified, finding the right solutions will be obvious to the stakeholders. When implemented by the EasyIT team, these solutions offer the most benefit to the organization, such as enhanced collaboration, automation, or a new project management process.
EasyIT Helps Modernize And Grow Businesses Across Columbus
As an Inc. 5000 member, EasyIT is committed to helping clients modernize and update their business processes with the help of innovative technologies, all in the service of overall growth.
With our help, clients can…
Become More Mobile
We implement Mobile Device Management and Bring Your Own Device policies for clients that allow employees to use their own devices in combination with the business.
Benefit From The Cloud
We help clients increase collaboration and simplify management by hosting their data and applications through the cloud, prioritizing security in line with the access given to staff members.
By moving to a cloud solution instead of conventional infrastructure, our clients enjoy all the benefits of an up-to-date and optimized IT infrastructure without paying more than our monthly service fee.
Put Their Data To Work
With the right information, each choice our clients make can have attainable and expected positive results for their business; without that information, they would essentially be gambling with the future of their company.
Business intelligence collects and analyzes department productivity, overall growth, sales trends, and customer behavior. Applications of this data can range from simple spreadsheets for the organization and storage of data to online analytical processing or reporting and querying software. Each has a specific use and offers various benefits to your small business.
Automate A Range Of Processes
Automation with machine learning plays an enormous role in optimizing workflows and predicting problems for our clients. With workflows based in the cloud, our clients can automate or semi-automate many processes:
Use analytics to predict problems before they arise.
Automate and monitor work and maintenance schedules.
Track and optimize work-in-progress on sites using sensors that monitor downtime
EasyIT Supports Columbus Businesses With Exceptional IT Services
In the end, growing your business doesn't have to be a massive restructuring of your operations. Step by step, you can affect these changes, and we can help.
Our inclusion on this year's Inc. 5000 list shows that we know how to grow our business and can show you how to grow yours with the right technologies. Talk to the EasyIT team about how to automate more of your daily tasks.