SOC Certification In Columbus, OH
You can't afford to make any assumptions when it comes to protecting your data.
You need an IT support partner you can trust to keep you secure. Is yours SOC-certified?
Are you worried about your cybersecurity?
Even if you have a company that's taking care of it, it can be difficult not to worry – on average, there's a cyber attack every 39 seconds.
It could be a ransomware infection. It could be a phishing email. It could be one of the many other methods cybercriminals employ today.
If you're not confident in your IT company's ability to keep you secure, it'll always be a worry. After all, not all IT support providers are created equal. That's just the way it works – they're all vying for your attention and your business, and often, they'll tell you what you want to hear to try to close the deal.
Nowhere is this more dangerous than with cybersecurity. While the average small business may assume they can get by with a simple range of cybersecurity measures like a firewall and antivirus solution, you know you need a more robust, reliable approach.
How can you sort the capable cybersecurity partners from the rest?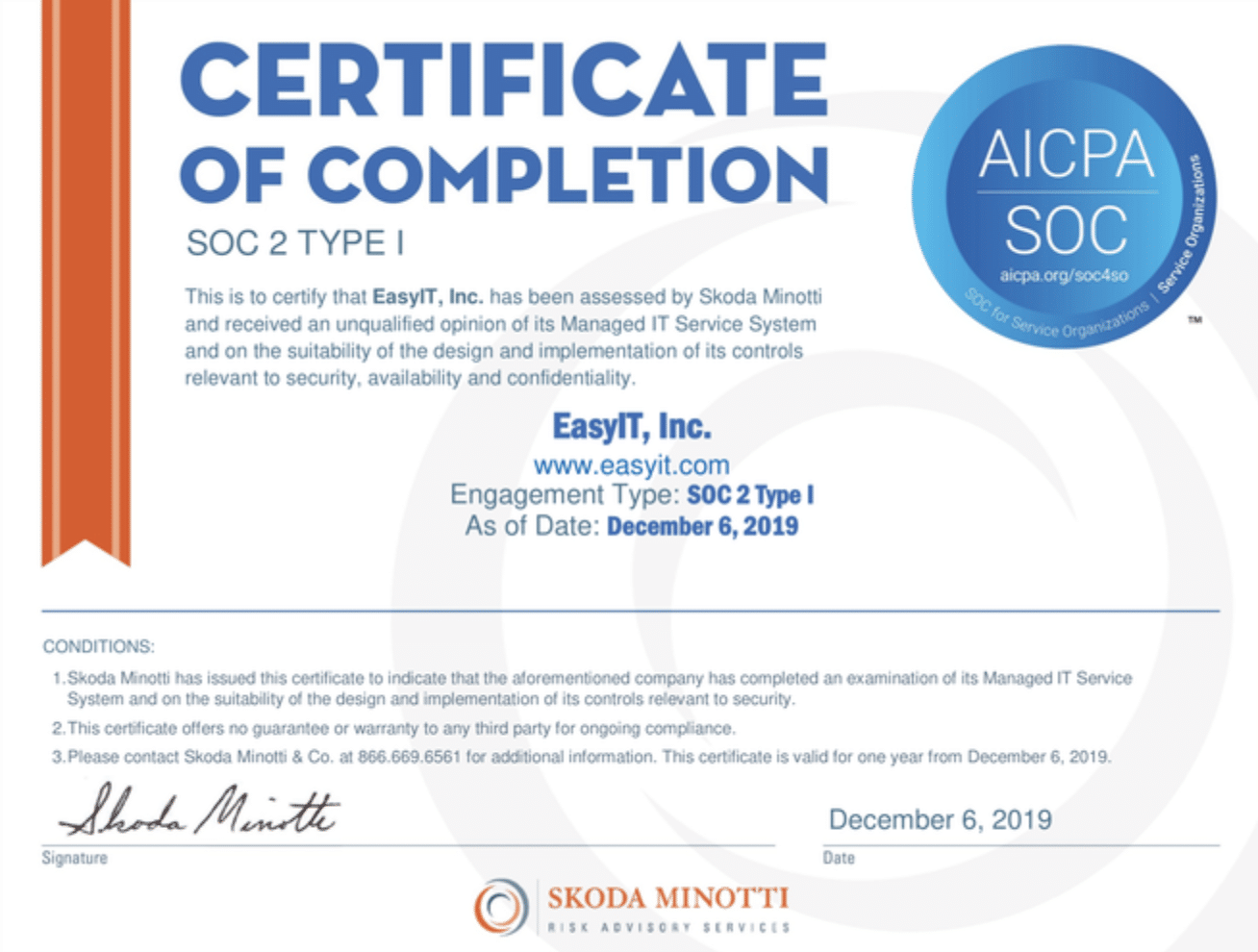 Look For SOC-Certified Support
Do you know if your current IT support provider is SOC-Certified?
SOC ("system and organization controls") is a system of service organization controls, covering a series of standards designed to help measure how well your IT company conducts and regulates its information.
A SOC-certification is a key way to determine whether an IT company will keep you properly secured, because they've been audited by an independent certified public accountant who determined the firm has the appropriate SOC safeguards and procedures in place. These tiers of IT support providers are better prepared to keep you secure and can assist in your internal auditing processes.
The bottom line is that if you are expected to follow regulatory and compliance standards, you will want to review SOC reports from potential partners or vendors to help ensure your data is safe.
The EasyIT team knows how important cybersecurity is for our clients, and so, we offer SOC 2 certified support. Our SOC 2 reports will demonstrate our internal controls around IT policies and procedures, making our commitment to security, availability, process integrity, confidentiality and privacy clear.
Want to see our report? All you have to do is ask.
EasyIT Provides Certified And Tested Cybersecurity Expertise
The bottom line is that you can't afford to risk your cybersecurity on a less-than-capable IT company. It's your duty to find confidently secure support for your organization.
If you're not sure where to start, get in touch with the EasyIT team:
Schedule a free cybersecurity consultation at a time that works for you.
Discover what our regularly audited and SOC-certified services will do for you.
Enjoy the peace of mind that comes with confident cybersecurity support.